About Me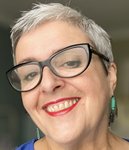 Hello I'm Judy and I'm based in Dundee Scotland. Colour has always been my thing and I teach students daily how to mix dyes and print with colour at Duncan of Jordanstone Collage of Art and Design at the University of Dundee. What a wonderful job I have.
I've won awards for my use of colour, one very special was the Society of Dyers and Colourists International Award held in Hong Kong in 2012.

I develop my own work on paper using inks and gouache and love the contrast of surface each of these creates. Layering and applying oil pastel, working into the piece again and again, building and removing layers creating an energy on the paper. I love to see clashing colours and seeing how much I can get away with.

I then photograph the work with my camera and upload to the computer, sometimes I will play with the design in Adobe Photoshop but mostly it is just the captured art work. It is then saved and sent to be printed digitally using reactive dyes.
After printing, the cloth is steamed to set the dye into the cloth and then washed to remove any excess dye. The process is long but worth it as the silk is so soft up on completion.
Now I sew the edges mostly by hand using a rolled edge, each scarf takes around an hour to sew. I also attach a Judy Scott label.
I then wrap in tissue and put in a box ready to send out.
Enjoy wearing your piece of art
Love Judy